This is an article on how to use the Mail Components in .NET to create a simple application to send e-mail.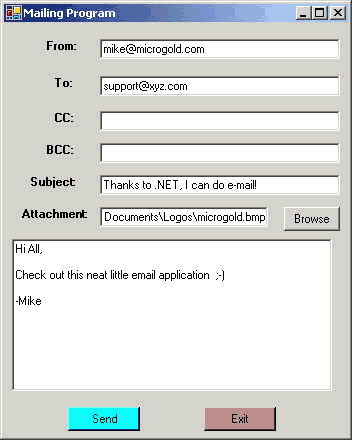 Figure 1 - The Smtp Mailing Application
The Smtp Mail functionality is contained in the System.Web.Mail namespace and contains three classes:
Table 1 - System.Web.Mail Namespace
| | |
| --- | --- |
| System.Web.Mail Classes | Description |
| SmtpMail | Class used to send Mail via Windows 2000 SMTP services |
| MailMessage | This class contains everything contained in an e-mail message. An instance of this can be sent by the SmtpMail class |
| MailAttachment | This is a class representing an attachement to an email. |
The SmtpMail Class gives you two static methods to send mail: the quick and easy way, and the more detailed way.
SmtpMail.Send(FromString, ToString, SubjectString, MessageString)
or
SmtpMail.Send(aMailMessage)
I opted to send email using the MailMessage object in this example because you can send a lot more information.  Some of the properties of the MailMessage Object are shown below:
| | |
| --- | --- |
| MailMessage Property | Description |
| From | who the email is from |
| To | who the email is to |
| Cc | who the email is copied to |
| Bcc | who the email is copied to without seeing the recipients |
| Attachments | A collection of Attachments to the email |
| Subject | Subject of the email |
| Body | Message Body of the email |
| BodyFormat | The format of the Message Body (Currently Text or Html) |
| Priority | MailPriority of the Message (High, Low, or Normal) |
Table 2 - MailMessage Properties for an E-mail Message