Access 2010 All-in-One For Dummies (For Dummies (Computer/Tech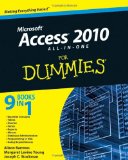 Authors

Alison Barrows, Margaret Levine Young, Joseph C. Stockman

ISBN

0470532181

Published

10 May 2010

Purchase online
The all-in-one reference to all aspects of Microsoft Access 2010If you want to learn Microsoft Access inside and out, the nine minibooks in this easy-access reference are exactly what you need. Read the book cover to cover, or jump into any of the minibooks for the instruction and topics you need most.
Editorial Reviews
ROBOT SOCCER AND THE VISUALIZATION THEREOF.
You might also like...
Demonstrate your expertise with the 2007 Microsoft Office system! This comprehensive study guide covers all the Microsoft® Office Specialist Study Guide exams for Microsoft Office, including Word 2007, Excel® 2007, Outlook® 2007, PowerPoint® 2007, an...
Boagworld Web Design Advice: Access

Published 11 years ago, running time 1h4m

On this week's show: Ryan and Paul talk to Robin Christopherson from Abilitynet about web accessibility and Dave shares Headscape's experiences of moving to Google Apps. s, access, on, week