Printing a document programmatically is quite involved. Using the ReportPrinting library presented here, youll be able to print reports with multiple sections, with very little code.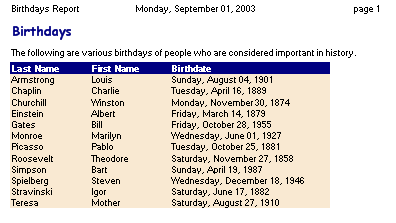 Figure 1 - Part of a sample report
This report is comprised of plain text sections (such as the title "Birthdays", and the other paragraphs) and grids of data from a database (more specifically, from a DataView object). Since the initial version of this document, I've already extended the framework to handle images (from .NET Image class), boxes (similar to the CSS box implementation) and more are coming every week. For the latest versions, check the releases page.
This article includes
A step-by-step introduction
Descriptions of the classes available in the library
An introduction the possible layouts of your reports