The Lure: The True Story of How the Department of Justice Brought Down Two of The World's Most Dangerous Cyber Criminals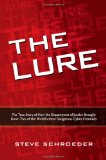 Authors

Steve Schroeder

ISBN

1435457129

Published

16 Feb 2011

Purchase online
Beginning in the fall of 1999, a number of Internet-related businesses and financial institutions in the United States suffered computer intrusions or "hacks" that originated from Russia. The hackers gained control of the victims' computers, copied and stole private data that included credit card information, and threatened to publish or use the stolen credit cards or inflict damage on the compromised computers unless the victims paid money or gave the hackers a job.
Editorial Reviews
Gerenciador de conteúdo em Java
You might also like...