Google is one web site that provides the public with web services, allowing applications to use features like search and spell checks. We shall now see how can we use this service in an application using Visual Basic .NET. But before we can access the Google web service, we need to create a Google account and obtain a license key, which will allow us to run about 1000 automated queries a day.
Jump over to http://www.google.com/apis/ to create a Google account. Once you have entered your email and password, Google will email you your license key, which will be used in our application sample application for this article.
Getting Started
Now that we've received our license key, we will create an application in Visual Basic .NET to create a customized search and a spell checker using Google's web service API's (application programming interface). Open Visual Studio .NET and create a new Windows Application Project. Call it googleapi and click OK: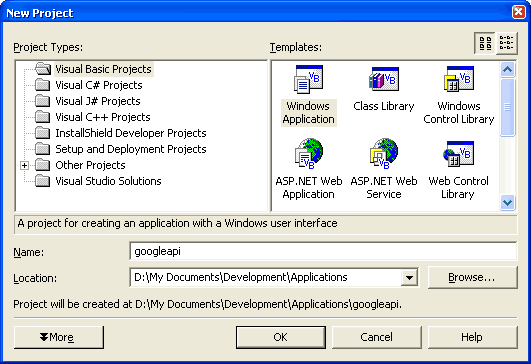 Adding A Web Reference To The Google Web Service
Next, we need to add a web reference to the Google web service (this is almost like adding a reference to a COM/ActiveX object, but when we add a web reference we now have access to the XML web service on Google's server).
Open your solution explorer, right click on references, and click add web reference. Alternatively you could select the project menu and click on the add web reference menu item. In the address bar, type in http://api.Google.com/GoogleSearch.wsdl (please make sure that you type it in exactly as shown, as this URL is case sensitive), like so: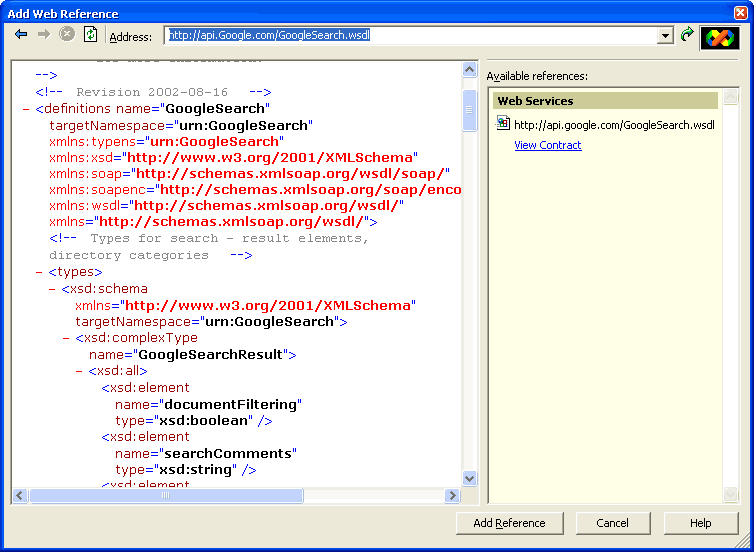 After you enter the URL and press enter, the Google web service is loaded and you should see a screen similar to the one shown in the example above. Lastly, click on the add reference button to add this web reference to our project.